HELICOPTER PACKAGE
Trip Overview
Char Dham Yatra of Uttarakhand is a very well known and highly revered pilgrimage in India. Perched away in the Garhwal Himalayas amidst the stunning beauty these 4 temples include kedarnath (Rudraprayag), Badrinath (Joshimath), Gangotri (Chamoli) and Yamunotri (Chamoli). People visit the temples as a part of their attempt to achieve moksha or salvation in this lifetime in order to get rid of the karmic cycle of birth and rebirth. although difficult, this journey is extremely spiritual and will prove to be worth it in the end.
A minimum of 12 days and 11 nights is required to complete this legendary journey. However, if you are running late in time or are travelling with someone who is incapable of completing the journey by road due to physical disabilities then opting for the char dham yatra package by helicopter is the best way of travelling. Especially the collection of packages that we have to offer are all available at the best and the most affordable prices. All the yatra package for helicopter commences from Dehradun and the transportation and drop off services are all included. Now you can travel in luxury, comfort and ease since every step of the way is well planned.
Some of our most wonderful packages include options like – Char Dham Yatra by Helicopter, Badrinath Yatra by Helicopter, do Dham Yatra to Badrinath and kedarnath by helicopter, kedarnath yatra via a helicopter journey etc. These packages are all available and you can book yours now to give your family, friends and loved ones the holy experience you deserve. This trip will allow you to go on a soul rejuvenating journey on the Himalayas. Choose to go on this pilgrimage via the helicopter yatra on these iconic hotspots of religion, culture and traditions.
Weather Conditions
As the name states the Yatra constitutes of four holy shrines Kedarnath, Badrinath, Yamunotri, and Gangotri where all tucked at great elevations amidst the Garhwal Himalayan Ranges. It is believed that while covering these holy sites one gets an auspicious chance to witness the rich culture, history, and the divinity rooted to the destinations.
However, Char Dham Yatra is said to be one of the most enchanting and enriching one but as the devotees had to travel across the rugged mountainous roads, steep and rocky slopes, and the challenging trekking routes. Being these holy abodes tucked at great elevations, these are prone to natural calamities including caused due to insane climatic conditions including cloudburst, landslides, heavy snowfall, and rainfall leading to obstacles like blockage of roads with fallen trees and slippery roads. This is why one needs to stay tuned with the recent weather updates of the state.
Climatic Conditions of Char Dham in Summer
During the summer months, the regions look so stunning and beautiful and also the weather is so favorable and pleasing in this season. The temperature ranges around 17 degree Celsius which makes the weather so moderate and favorable to cover all the sightseeing destinations, temple visit, and also the city excursion. As mentioned in the above paragraph the climatic conditions of these regions are not good to explore during the monsoon and winter months due to the unexpected and intolerable climatic conditions. During the monsoon months, the helicopter services are not available as the sky is unclear and filled with black clouds. And during the winter months, these destinations are covered with thick and white sheets of the blanket.
Note:
Due to unfavorable weather conditions and unclear sky, helicopter services for Char Dham Yatra becomes temporarily unavailable especially in the last week of July and complete August. It again starts in September and continues till the temple gets closed.
Best Time to Visit
Being an annual pilgrimage the destination welcomes millions of devotees coming in the crowd especially during the peak seasons the region gets flooded with the devotees. So, if you are also looking for this pious journey and worried about the unfavorable conditions then plan your trip either between last week of April and June or go with September October plan. Reason being these are the months when you are not going to face any trouble with weather and you can complete your Char Dham by helicopter with utmost ease and comfort.
How to Reach?
Uttarakhand Tourism is reaching to the next level day by day with the advancement of transport facilities. Earlier the number of devotees visiting Char Dham was limited to thousands but now in last some years the number has reached to millions as now people with ill-health or senior citizens, children can also embark on this difficult journey with the innovation of Char Dham by helicopter services but obviously helicopter is not affordable to everyone so for such people pony rides and palanquins are available. Let's have a detailed analysis of the modes of transport you can choose to reach these holy shrines in Uttarakhand.
By Flight
If you are coming by flight from your city then take the flight to Jolly Grant Airport in Dehradun. On reaching the airport you don't need to worry about the transport for your transfer to the hotel or your desired destinations. From the airport, you can hire a taxi or a personal cab and even you can opt for a sharing taxi.
By Rail
Rishikesh and Haridwar Railway Station are the two closest railway stations where you can deboard your train to cover this holy Yatra. Once you are out of the railway station you can hear taxi drivers calling out the names of your desired destination. Cabs are also found standing outside the railway stations.
By Road
The roadway is the best mode of transport which one can opt for covering the holy shrines of Char Dham Yatra. There are numerous inter as well as intra state buses running between the major cities of the state and the best thing is that these are quite pocket-friendly but yes it consumes a lot of time.
Rate Offered : Total Cost Per Person is Rs. 1,60,000**/-

Duration : 4 Nights / 5 Days
Opening Date : 01st - May 2020 Onwards
Destination : Dehradun - Yamunotri - Gangotri - Kedarnath - Badrinath - Dehradun

chardham by yatra helicopter starts from the capital of Uttarakhand the queen of the hills…Dehradun.
Chardham Yatra by helicopter in 04 nights and 05 days offers you a chance to pay homage to your lords and enjoy some refreshing moments nestled in lap of nature. While Yamunotri is the seat of river Goddess Yamuna, Gangotri is dedicated to Goddess Ganga, Badrinath is known as the abode of Lord Vishnu (Badri) and Kedarnath is a shrine dedicated to Lord Shiva.

Day 01: Dehradun To Yamunotri
07:00 AM - Departure S'dhara Helipad , Dehradun
07:30 AM - Arrival Kharsali Helipad, Yamunotri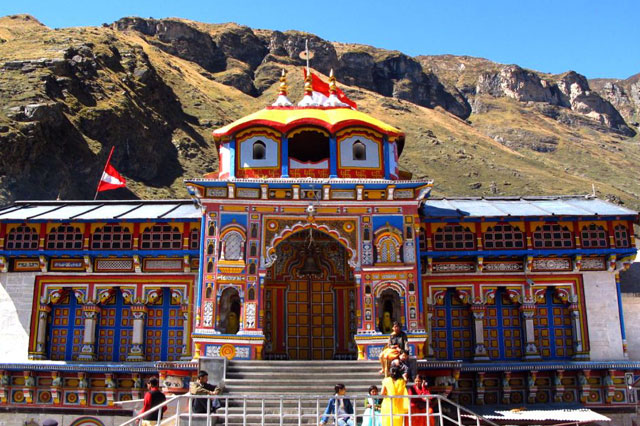 Assemble at the State government helipad on Sahastradhara Road, Dehradun the starting and concluding point of this yatra. The ground staff briefs you about the do's and dont's of the trip. Upon your arrival at the Kharsali helipad at Yamunotri, you are transferred to your hotel.
Post freshening up you will get palki/ pony and leave for VIP darshan at temple Yamunotri. The main attractions here are Goddess Yamuna and the thermal kund at the temple premises.
The actual Champasar glacier is at an altitude of 4421 m above the sealevel and is inaccessible. The temple placed on the left bank of Yamuna River & was erected by Maharaja Pratap Shah of Tehri Garhwal. The idol of the Goddess here is in black marble and the overnight stay at the hotel.
Day 02: Yamunotri To Gangotri
07:30 AM - Departure Yamunotri Helipad
07:30 AM - Arrival Harsil Helipad, Gangotri
Depart from Yamunotri helipad and fly to Harsil Helipad, lying amidst the beautiful lush Uttarakhand valleys.
The day is scheduled for visiting the next Chardham destination of Uttarakhand - Gangotri. It is advisable that you visit the Gangotri temple right from the helipad. The temple is located at a distance of 22 kms from helipad which will be covered by Innova. Post special Darshan at Gangotri temple, get transferred to your hotel at Harsil in the afternoon. Post completing the check-in have your lunch & be at leisure. We provide all the basic and leisure facilities for the tourists such as a premium accommodation with en suite washrooms, delicious vegetarian food, short walks, local sightseeing, evening bonfire prior dinner & overnight stay at Harsil.
08:00 AM - Departure Harsil Helipad, Gangotri
09:00 AM - Arrival Kedarnath Helipad
Kedarnath is flanked by breathtaking snow-capped peaks, making it the most remote site among all four Char Dham sites.
Early morning take off from Harsil by 9 am to Guptkashi/ Phata/ Sirsi helipads. Due to Government regulations guests are to be shifted to shuttle helicopter from same helipad to fly to Kedarnath. Upon arrival at Kedarnath helipad walk till hotel which is about 200 mts from helipad.
This time Stay is arranged at Kedarnath and available hotel properties at Kedarnath are non-star category but the stay is arranged at best among them. Early Morning at 4 AM perform Rudra Abhishek at kedarnath.
This Hindu temple is dedicated to Lord Vishnu. It is believed that the temple has been built on the site where Lord Vishnu had witnessed the wedding ceremony of lord Shiva and goddess Parvati.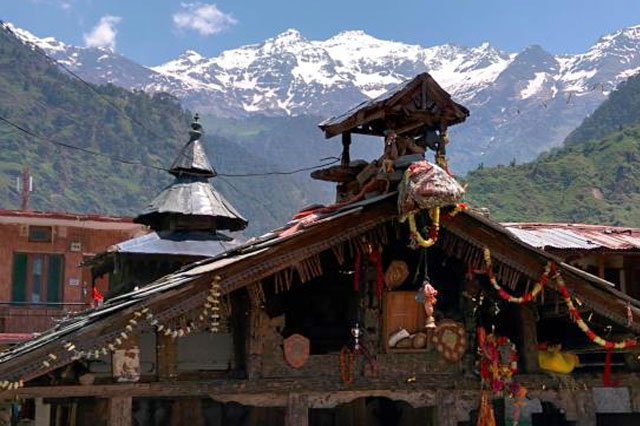 Day 04: Kedarnath To Badrinath
09:00 AM - Departure from Kedarnath / Guptkashi
09:30 AM - Arrival Badrinath Helipad
After you arrive at Badrinath helipad, get transferred to the hotel for check-in. as you settle, get all set to visit the Badrinath temple. Badrinath is the holy abode of Lord Vishnu, also known and Lord Badri here. Have Darshan at the temple, which is nestled between the mountain ranges of Nar and Narayan. We do Visit of mana village which is near to religious site of Badrinath.
The special Maha Abhishek Pooja is the highlight of this entire yatra. It starts at 0400AM sharp in the morning and last for 2 hours. We have arranged an opportunity for all our guest to sit inside the temple and cherishes the darshan of the Shringar of the deity from close quarters.

Day 05: Badrinath To Dehradun
09:30 AM - Departure from Badrinath Helipad.
10:30 AM - Arrival Dehradun Helipad.
Adieu to your spiritual Yatra upon arrival at Dehradun Helipad.

Inclusions:
Helicopter trip for the entire yatra from Dehradun.
01 Night (previous to yatra date) complimentary stay with breakfast at Dehradun, Airport/ Rly Stn. Transfers, hotel to helipad transfers.
Accommodation & all applicable veg meals for 04 Nights / 05 Days.
Early morning Rudra Abhishek at Kedarnath & Maha Abhishek at Badrinath.
All local transport and sightseeing by Toyota Innova/ cab.
VIP Darshan at Badrinath and assistance in Darshan all temples i.e. Yamunotri, Gangotri and Kedarnath.
Palki / Pony at Yamunotri.

GUIDELINES FOR PASSENGERS -

• Carrying of AADHAR CARD is must for all Indians whereas passport is required in case for foriegn national.
• All the hotels at Chardham Sector are non star category but we provide the best option available & the food served is pure vegetarian . Hotels are subject to sudden changes due to unavoidable circumstances.
• Maximum 5 kg luggage per passenger will be permitted to carry & excess baggage is to be stored at the hotel before proceeding to helipad, which can be collected later after completion of the tour.
• All temples in Chardham sector are located in high altitude & passengers are advised to carry their own medication. At these locations, it becomes cold in the evening, so passengers are advised to carry woolen clothing with them.
• Weighing at the time of boarding the helicopter is must since the pilot will not allow boarding in case it exceeds the weight conveyed at the time of booking.
• At Badrinath you would be provided with VIP darshan slip whereas our associates shall assist you in all other dhams. Late night puja at Kedarnath & Early morning puja at Badrinath shall be exclusively arranged for the guests.
• Our company shall not be liable for any medical emergency on the ground to the party, thus advised guests to get the fitness certificate to travel to the high altitude sector.
• Damages of any kind caused to the party due to natural causes during the tour shall not be compensated by us and all legal disputes are to be settled within jurisdiction of Delhi-NCR.
• Every person beyond 85 Kg shall pay Rs. 100 /- per Kg extra toward Palki at Yamunotri & Rs. 150/- per Kg / per person for shuttle at Phata to Kedarnath on direct payment basis.
• The expenses towards lodging & boarding shall be borne by the guests in case of overstaying at any Dham due to bad weather conditions.
• If stuck in a bad weather situation on any particular day out of the 5 days, we shall try to finish two dhams on next day & maintain the further schedule.
• We shall refund the proportionate money only as per missed flying time, in case guests are unable to visit any of the dham due to bad weather situation or any reason beyond our control.
• Refund shall be applicable in case we are unable to commence the journey from Dehradun due to any reason beyond our control.
• Any donations, tips, pitthu & porter charges shall be borne by the guests only.
• Single Supplement @ Rs. 15,000/- shall be chargeable in case any guest wishes to stay in single occupancy.

CANCELLATION POLICY
If passengers wish to cancel their booking then they will have to pay following cancellation charges:
Upto 30 days before Journey --- 30% of amount.
Upto 20 days before Journey --- 50% of amount.
Less than 10 days before Journey --- No Refund.
.

Hotels to be Used

Dehradun - Hotel Madhuban ( Deluxe Rooms)
Yamunotri - Yamunotri Cottages ( Premium Cottages)
Harshil – Sundar Resort
Kedarnath – Kabra Bhavan or Similar
Badrinath – Sarovar Portico
Please feel free to give us a missed call at 96259 80678 , 77039 77644 for any assistance.